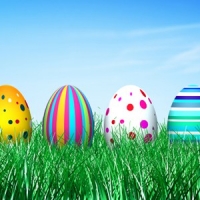 EASTER EGG HUNT! - March 24th, 1:00 P.M.
September 11, 2017
RAIN OR SHINE!!! INVITE YOUR FRIENDS AND FAMILY and Bring your Basket or Bag!
Faith Lutheran Church in Finneytown will host our annual Community Easter Egg Hunt on Saturday, March 24th, from 1:00 to 1:30 pm. All children ages toddler through 6th grade accompanied by a parent or guardian are welcome to attend this free event. At 1 pm, children will be divided into groups based on age and directed to different areas of the church property to hunt for over 20 dozen eggs. Age groups will be: 3 years and younger; 4 years through Kindergarten; 1st and 2nd grade; and 3rd through 6th grade. After the egg hunt, the youth of the church will hand out candy and other goodies to add to the basket or bag. Faith Lutheran Church is located at 8265 Winton Road across from the Bob Evans Restaurant. The Fellowship Hall is handicapped accessible. Call 931-6100 for more information. THIS IS A RAIN OR SHINE EVENT. In case of poor weather conditions, the egg hunt will move inside the building.
Back