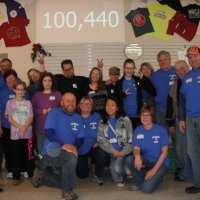 Hands Against Hunger
August 2, 2016
Faith Lutheran has been partnering with Thrivent Financial for years. This year our Hands Against Hunger pack date is November 12th from 9:00 to Noon.

Hands Against Hunger is the humanitarian relief arm of A Child's Hope Int'l, producing and distributing high protein food to children locally and around the world. We will be celebrating with the Hands Against Hunger team reaching 25 Million total meals packed! That is an astounding achievement in humanitarian aid.
We need volunteers to pray, donate funds, and sign up for the packing event. For more information about A Child's Hope Int'l, visit their website at http://thechildrenarewaiting.org/portfolio/hands-against-hunger/

Place:
Hands Against Hunger Factory
2430 E. Kemper Rd
Cincinnati, OH 45241

We will meet at church and caravan to the pack-out. Please sign the sheet in the narthex if you plan to attend the pack-out. Children under Luther League age will need a parent to accompany them. For more information, please see Kate Giver or Tina Wuorinen.



Back