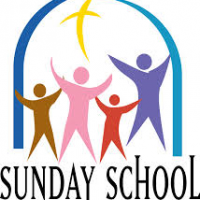 Join Us For Sunday School at 10:05 a.m.
August 13, 2017
We have another exciting year of Christian education for all ages beginning Sunday, September 17th.

Sunday School begins after the 9 AM service. Teachers and room assignments follow:
Ages 3 - 1st grade -- Linda Roeder in Room 6
Grades 2nd - 5th grade -- Marie Goetz in Room 2
Grades 6th - 8th grade --Roxanne Johnson in Room 1
High School -- Tina Wuorinen & Chris Topits in Youth Room
Young Adults -- Kris Werner in lounge
Adults -- Pastor Paul Schultz in Room 4 Adult Sunday School moves to Room 4. The Adult bible study, led by Pastor Paul Schultz, was so well attended last year that the class has outgrown the available space in the lounge. Beginning this fall, the adults will meet downstairs in Room 4.
Pastor Paul has been working hard to prepare for the fall class entitled, "Martin, Paul and Grace: A Study of Luther's Encounter with Romans." In light of the 500th anniversary of the Reformation, Pastor Paul would like to encourage every adult to attend for further study and spiritual growth.
Back